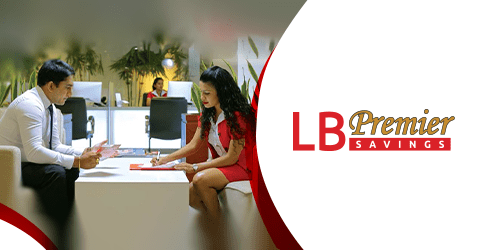 Want to save up and earn an interest for your savings for stable financial rewards? Our savings accounts offer you tiered interest rates as calculated depending upon your daily balance. The interests that are accrued on a daily basis will be capitalized and credited to you at the end of each month. These accounts also come with VISA enabled Debit Cards, POS transaction capability for Debit Card holders, ATM withdrawals that have been made available for any LankaPay enabled ATM machine locally, and VISA enabled ATM machine internationally.
Our LB e-connect facility is provided to you completely free of charge and helps you fulfill your banking requirements from anywhere, anytime. All internal standing orders and Direct Debits are available Free of Charge. SLIPS/ CEFTS transfer facilities are available.

| | |
| --- | --- |
| Account Balance | Interest Rate (P.A) |
| Above Rs.500,000.00 | 09.50% |
| 300,000.00-499,999.99 | 7.00% |
| Less Than Rs 299,999.99 | 4.00% |
Want to know more?
Contact us today
Account holders with age above 18 years are allowed to open Primer Savings accounts.
Sri Lankans who do not hold a valid NIC/ PP are not eligible.
Foreigners who do not hold residence visas in Sri Lanka are not eligible.
Limits have been set by the company for fund transfers which can be customized based on customer's request.
The minimum opening balance for a savings account is Rs. 10,000.00
Fees will be the applicable for CEFTS, SLIPS and ATM transactions.
Internal standing orders and direct debit are available free of charge.
A Deposit Insurance Coverage of maximum up to Rs. 1,100,000.00 based on the amount deposited is also available.
Contract Law
Directions & Circulars of Central Bank
Policies and procedures on dormant accounts and abandoned properties
Savings accounts with no transactions for a one-year period are classified as Dormant Accounts.
A duly filled Dormant Account Activation Form along with identity confirmation are required to reactivate a dormant account.